Today's challenge is a Halloween Color Challenge of Orange, Purple and Green. Our prize this week is the cute
Jena Fairy
digi. Just add your card to the InLinkz program on the
LPS blog
and when you upload to a public gallery please use the keyword LPSC85. You have until Sunday at 9:00pm EST to get your card loaded.

The image we are previewing today is called
HALLOWEEN CUTIES
. There are 4 adorable images along with some sentiments in this set. Want to win a $15 Gift Certificate to the
LPS store
? All you have to do is comment on ALL the DT members blogs that are participating in the Hop for a chance to be entered in the random drawing for the gift certificate.
You have until Sunday night at 9:00pm EST to get those comments in.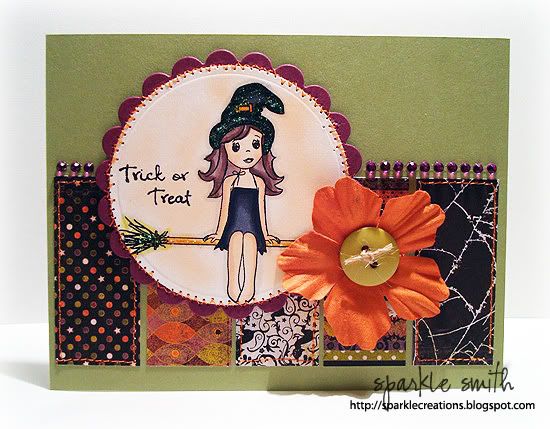 Paper: Basic Grey Eerie
Stamps: Little Paper Shop
Nestabilities, Copics, Prima Flowers, PTI Buttons, Twine, Rhinestones, and Crystal Stickles
Are you ready to start the Hop? Don't forget to hit them all and leave a comment for a chance to win that $15 Gift Certificate.
Sparkle Smith - you are here
Okay, no on to the book. This book is about 2 best friends and one wasn't able to have children, so the best friend gave her eggs to have in-vitro fertilization done. Years later, it comes to find out that the best friend has a kidney disease and it is hereditary. She is scared that she gave her best friend a child who may become sick later in life.
The one who wasn't able to have children, her husband is a police man and gets shot while in the line of duty. He actually dies from a brain aneurysm, as they couldn't get all of the bullet particals out of him. Overall, the book was pretty good. It's really just about everyday life, the struggles of health, and keeping a family together.
This book was actually very sad for me, as most of you know that my own mother had kidney failure and died from a brain aneurysm in 2004. But I would still recommend the book to anyone who likes to read Jodi Picoult's books. It's written in the same style and has all the different character's view points.
Well, I hope you all have a lovely Monday! Though it's back to work for me...I'm actually teaching a class this week.