Today's challenge is anything goes. It was my friend Yvonne's birthday at the beginning of the month and her daughters got her a brand new purple iPod. She asked for a thank you, since she's visiting them right now in Texas.
Obviously, I had to use Ipodabella. Yvonne's favorite color is purple, and since she got a purple iPod, I figured I would just go with it. With the anticipation on new Basic Grey paper, I am on the usual scurry to hurry up and use up my old stuff, lol.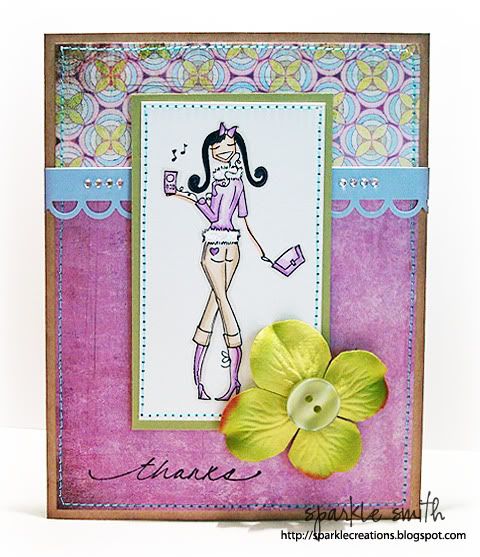 Paper: Basic Grey Koishi
Stamps: Stamping Bella, sentiment is Amuse
Prima Flowers, PTI Buttons, Rhinestones, EK Success Border Punch, Copics, and Crystal Stickles
Murder mysteries and suspense books are actually my favorite. But after reading one many months ago, I had this crazy dream that Brent and I were being chased by bad guys. In my dream, we're running in a banquet hall in a hotel and Brent jabs this guy in the throat with a pipe, lol. It's not funny...but just that my dream was so action movie like. I decided to take a break and I've been reading chick lit ever since pretty much.
On our trip to Yellowstone, I decided to go back to my true love and picked this book up at the airport. If you're a movie buff, you'll really enjoy this book. The murderer is really into re-creating scenes from movies. Now, there's only one death, but he does other things from certain movie scenes.
This book really keeps you on your toes and right before you get to the end, it's kindof a big turn. He plans on killing another person, but they never really explain what a 'smash cut' really is or what the scene is suppose to be like in the movie...as obviously that person gets saved. :) But if this type of reading is your thing, I still say it's a pretty good book.
Everyone have a fabulous Friday! It's almost the weekend!