First off, I wanted to let you all know that I now have my customer/fan blinkie up on the
Sparkle Creations Rubber Stamps blog
. The HTML code is on the right side, under my Feedblitz subscription. I hope that you all love it as much as I do. And again, thanks for all the support so far! I really do appreciate it.

On the 5th was my friend
Berenice's
birthday. Ever since I went to Vegas for work...I've been trying to catch up with life and I apologize for being such a slacker! Regardless, here is the card I made her. I hope she had a wonderful 30th birthday! The felt flower I made...but the numbers are felt Thickers. Pretty neat-o, eh?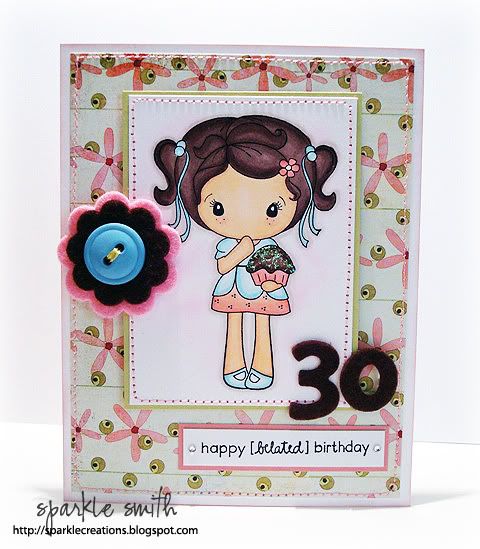 Paper: Basic Grey Kioshi
Stamps: CC Designs, sentiment is Amuse
Felt, CTMH Buttons, Floss, Thickers, Copics, and Rhinestones
I hope you all have a great Thursday! BB is on tonight!