*This is my 2nd post for today, please scroll down to see The Greeting Farm Critter Crew Preview!*
I will be selling bare deep etched red rubber stamps. I decided that it's just easier and gives you all more mounting options. I know that not everyone uses EZMount, so I figured those who use Tack n Peel would like this. And don't worry, for those who do use EZMount...I'm selling it in my store! :)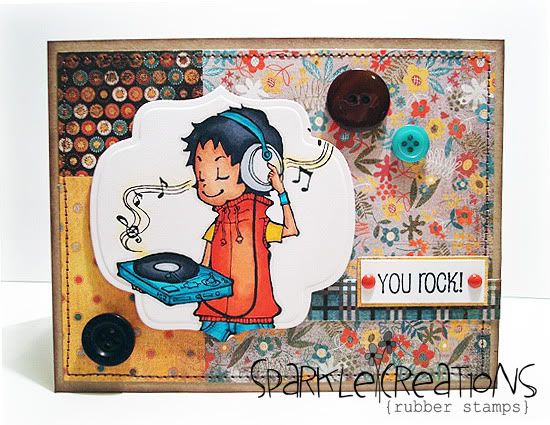 Paper: Basic Grey Max and Whiskers
Stamps: Sparkle Creations, sentiment is Amuse
Nestabilities, Copics, PTI Buttons, and BG Brads
Today I am giving away Turntable Josh. Included with the Turntable Josh stamp is 6 sheets of Basic Grey Max and Whiskers paper, 20 mixed matching buttons, 3 feet of matching ribbon, 8 matching Prima flowers, and the card that I have created. I also used Unscripted Sketch #58 for this.
You have until midnight tonight to tell me what your next big goal is. It can be anything really, so don't feel like your small goals aren't worthy. You'd never get to your big ones if you didn't make the small ones. :) You
must
comment on the
Sparkle Creations Rubber Stamps blog
in order to win. I will randomly choose a lucky winner! Good luck!