Today, I am introducing you to
Aki
, who is my wonderful artist. I just love her cutesy and whimsical style! Hasn't she done a terrific job on my stamps?!? I am so happy to be working with such a talented lady!
Aki Fukuoka
was born in Japan and at the age of eight, she immigrated with her family of seven to New Zealand. After graduating with a Bachelor of Fine Arts Degree
Aki
now lives in Auckland and works as a freelance illustrator and graphic designer. She enjoys spending her days working on variety of projects, including illustration and graphic design, painting, following stray cats, hugging trees and eating chocolate.
She is an published illustrator and her past work includes children's books, journals, editorials, advertising materials, identity designs, interior design and designs for stationary.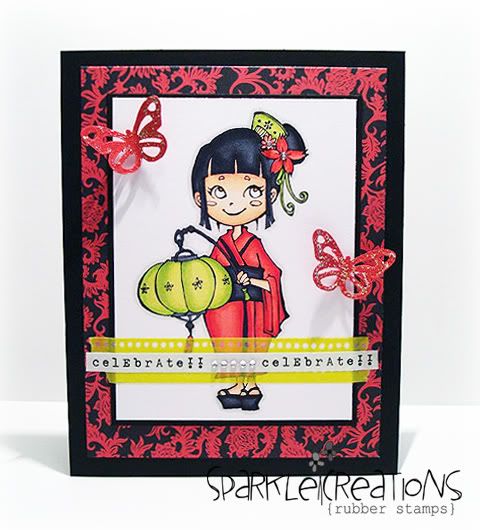 Paper: Prima Peaches
Stamps: Sparkle Creations
MS Butterfly Punch, Copics, Rhinestones, Washi Tape, and Crystal Stickles
Today I am giving away Lantern Rin. Included with the Lantern Rin stamp is 5 sheets of Prima Peaches paper, 20 mixed matching buttons, 3 feet of matching ribbon, 8 matching Prima flowers, a sheet of rhinestones, and the card that I have created. I also used Clean and Simple Layout #93 for this.
You have until midnight tonight to tell me what inspires you to create. You
must
comment on the
Sparkle Creations Rubber Stamps blog
in order to win. I will randomly choose a lucky winner! Good luck!