Yesterday, my little brother Michael turned 3! Can you believe it?!? He's just so darling and I really do wish I got to see him and Em a lot more. My family went down to Fresno, CA for Father's Day weekend, so they just got back from their trip. My dad told me last week that they were just planning on doing cake, since that's all Michael really cares about anyways, lol.
I really wanted this stamp set because it has the sentiment 'sparkle' in it. Of course I still haven't used it, but since I think Oliver looks like Michael...here's the card I made for him. I only have green washi tape so far, so I've been trying to make projects that will match with it. I also used
Sweet Sunday Sketch Challenge #74
for this.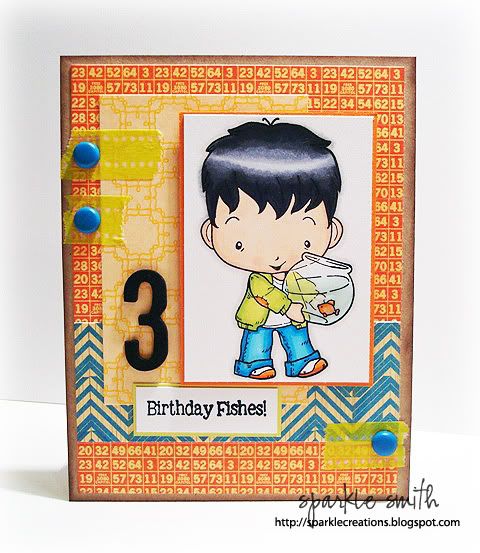 Paper: Sassafras Applejack
Stamps: The Greeting Farm, sentiment is Kraftin Kimmie
Washi Tape, CTMH Bigger Brads, Copics, American Craft Thickers
Everyone have a fabulous Thursday! Big Brother starts in 2 weeks! :)