This week's challenge is Bejeweled and Bedazzled. Create a card or project based on your favorite piece of jewelry, maybe a fun Etsy shoppe piece, your birthstone, whatever! You should include a PIC of the inspired piece and also add at least a tad of bling. Don't forget to check out the
TGF blog
to see the rest of the DT's lovely creations.
I don't own this necklace, but thought it was cute. Honestly, I would never wear it, lol. In real life, I love classic, elegant, and simple jewelry. My birthstone is diamond...and that's kindof boring for cards, lol, since I tend to use a lot of color.
As soon as I saw this necklace, I knew it would match my Kioshi paper just perfectly. I didn't mean to use Marlene twice in a row, but I didn't noticed until I was editing my photos. I also used
AmyR's Sketch Challenge #81
for this.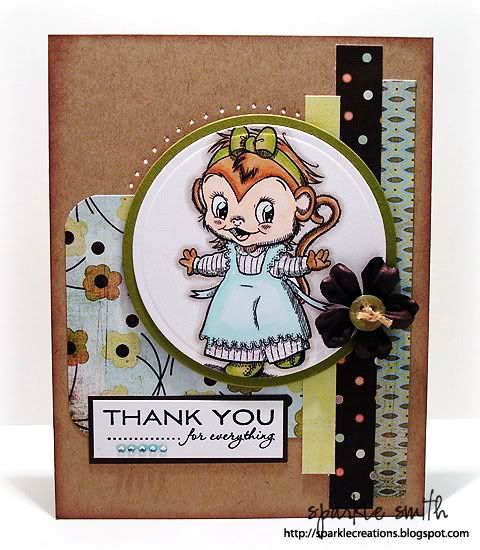 Paper: Basic Grey
Stamps: The Greeting Farm, sentiment is Amuse
Prima Flower, PTI Buttons, Twine, Rhinestones, Nestabilities, and Copics
I finished this book last weekend...and I can't figure out the ending. I mean, I know what happened...I just don't understand I suppose. Have any of you read this? It's about a family who has a little girl with OI (
very brittle bones
). The family sues for 'wrongful birth' and the catch is that the doctor is the mom's best friend.
If you're very pro-life, you might find this book a bit disturbing...but overall it was very informative. I didn't even know you could sue for wrongful birth, lol. I don't think it's funny, but was really surprised. It's kindof sad that people even can, right?
Anyhoo- I hope you all have a great Friday! It's almost the weekend!