It's my SIL's birthday on Friday, and this is the card I made her. I haven't played with my 'old' Bellas in so long, I thought I would show them a bit of love. In real life, I cringe at the thought of getting frosting all over my nice dress and I don't eat desserts bigger than my head, lol.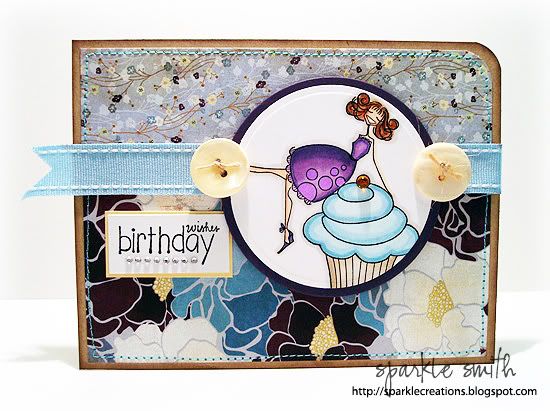 Paper: Basic Grey Wisteria
Stamps: Stamping Bella, sentiment is Amuse
PTI Buttons, Twine, Nestabilities, Copics, Rhinestones, and PTI Ribbon
It's the beginning of the month and time to check in with my goals. I am finally done with my secret project and will be sharing it with you all on June 26th! I'm happy to cross off another thing on my list!
Pay off my car by the end of the year - Still chugging along...
Technical writing class (for work) - I still haven't signed up for one. With us being short staffed, opening new stores, launching new products, and our family reunion in Yellowstone this summer, I'm not sure when I'll be able to take this.
Photoshop and Illustrator Tutorials (for work) - I still haven't progressed any farther then where I was at in February. We launch our first store in Vancouver, BC the last week of June, so my work schedule will be very hectic until then.
Get Copic certified
Make tags with my Christmas cards - I still only have the 2 tags that I made in January.
My secret project
Use up more of what I already have - doing good, used up the rest of my Basic Grey Offbeat paper.
Spend 1/2 on crafting than last year - I was under budget this month, but it doesn't really make up for the last couple of months that I was way over, lol.
I hope you all have a great hump day! I will be back on Friday with my TGF Farm Fresh Friday card.