Wow, I actually made a Christmas card for today! I've been super busy with life, my day job, and getting ready to share lots of fun stuff with you all. Hasn't my lovely DT been rockin' it the last few weeks without me?!? I appreciate all the hard work!
Don't forget to check out the
Christmas Card Challenge blog
to see the rest of the DT's lovely creations! If you haven't started...this is the perfect time to start your Christmas cards for this year!
Well, today's challenge is a recipe challenge with a twist. The recipe: 3 pieces of patterned paper, 2 buttons, and 1 ribbon. The twist: use transparency on your card. As you can see, I kindof cheated with this one. I only used one piece of patterned paper. Honestly, I'm just happy I got a Christmas card done this week, lol.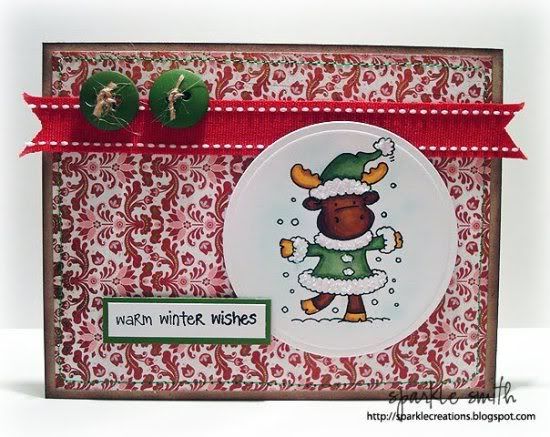 Paper: Basic Grey Eskimo Kisses
Stamps: Riley and Co, sentiment is Amuse
PTI Buttons and Ribbon, Nestabilities, Twine, Copics, and Crystal Stickles
ETA
:
I thought I could live without my big pictures...but I can't, lol.
Brent and I are going to the Mariner's game today...so I'm very excited for garlic fries, lol! I hope those who are celebrating have a wonderful Father's day! And for those who are a bit sad today, a great big hug as I understand the loss of a parent. Everyone have a fabulous Sunday!