My friend
Barb lost her dad
last week and I wanted to send her a card. I wanted a more subtle way of coloring, so I decided to airbrush the butterfly. Ever since I got my Copics, I gave away all of my other coloring mediums. I first tried coloring one in and thought it was too vibrant.
Thought to myself...should I take pictures of white background cards with colored paper behind it? Do you think it gets too washed out?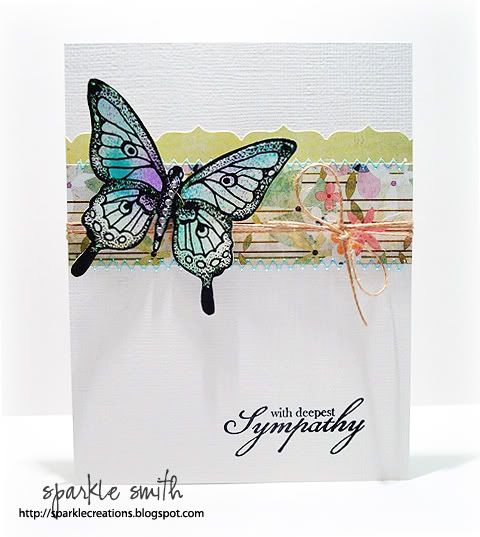 Paper: Basic Grey Kioshi
Stamps: The Rubber Cafe, sentiment is A muse
Friskars Border Punch, Twine, Copics, and Rhinestones
I know many think it's a bad omen to pre-make sympathy cards, but I've been wanting to make a set. A few people have asked me for some lately and depending on the situation, I don't always have the time to make cards. So I made a set of 8 to have on hand. It's a nice way to use up your scraps.
I hope you all have a great hump day! I will be back on Friday with my card for TGF Farm Fresh Friday.