Oh, to be young again! Lol...this card is for a custom order. This lady's daughter is turning 16 at the end of the month and her daughter's favorite color is purple. I also used Jen del Muro's
SFYTT
from May 8th.
My cousin Chris and I were born 2 weeks apart and we celebrated every birthday together until we were 21. Our 16th birthday was no exception. It's probably been the biggest birthday party we ever had. It was a fun night of pizza, Twister, and playing football in our cul-de-sac. Do you remember your sweet 16?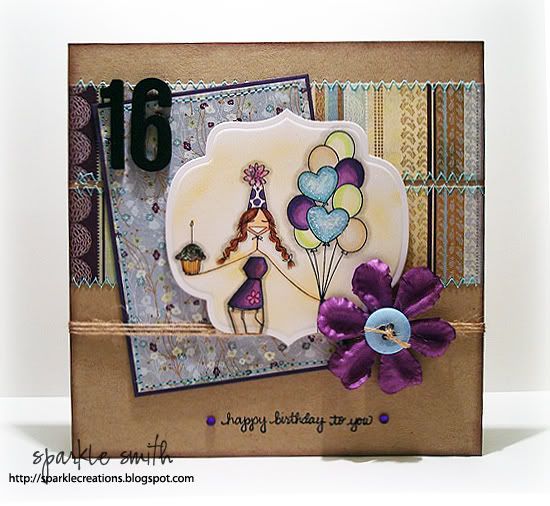 Paper: Basic Grey Wisteria
Stamps: Stamping Bella, sentiment is Amuse
Thickers, Prima Flowers, PTI Buttons, Twine, Crystal Stickles, Nestabilities, Rhinestones, and Copics
Trent from the Simple Dollar suggested
this book
, so I went ahead and read it. It's about this lady, Gretchen, who takes a years time to change her ways, add new resolutions, and just be happier in life. BTW, she's actually a happy person to begin with, so this isn't about depression or anything weird like that.
I loved it...and it's really inspired me to work on a few things. I tried to follow
Gretchen's blog
, but I find her posts boring and blah. Lol...so just stick to her book.
Obviously, every one's happiness project will be different and there's no right or wrong thing. Some of the things that Gretchen did just won't be appealing for you. I'm gonna guess that almost none of you would start a book club that only reads children literature. And I obviously wouldn't work on being more patient with my kids, since I don't have any, lol.
But I do want to exercise better, work smart, take time for projects, start a collection, make new friends, and buy needful things, to just name a few. I haven't really started this...but will update you on it as I get this put together. :) Since I also don't have the time Gretchen had either, it will be at a much slower pace.
Anyhoo- I hope you all have a great hump day! I will be back on Friday with my card for TGF Farm Fresh Friday.