Last week Brent asked me to make his older brother's girlfriend a card. Brandy unfortunately broke her arm while playing softball. I didn't hear the whole story, so I'm not sure how bad it was or how she's doing. But I hope that she heals well.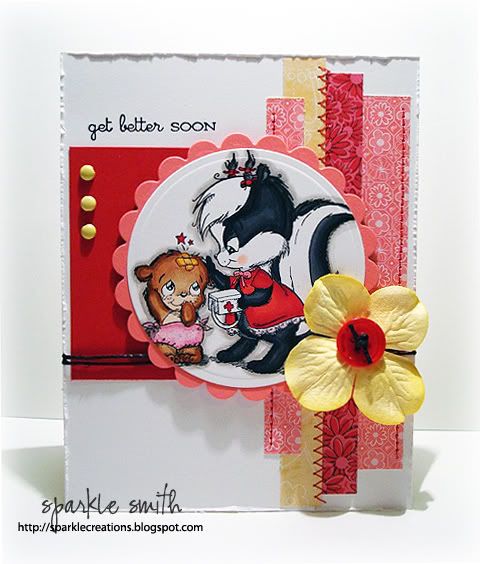 Paper: SU
Stamps: The Greeting Farm, sentiment is Amuse
Nestabilities, Copics, CTMH Brads, Prima Flowers, PTI Buttons, and Twine
Brent and I attempted to see Shrek 3 on Saturday, but as soon as we got to the mall, they were evacuating because the fire alarm went off. Everyone was trying to get out of the parking lot, so we decided to get lunch at the Cheesecake Factory. Later the mall re-opened and though we missed the movie, we decided to do some shopping.
I was able to get the rest of my outfit for my reunion, so I thought I would share with you all. First off, our reunion is at a
bar
...which is
lame
in my opinion. I'm really disappointed. Brent's class is having a 3 day multi-event reunion and my class is hanging out at a bar, lol. I originally bought a dress from Ann Taylor to wear, but it's too nice.

HS Reunion Outfit by sparkplug17 featuring Coach bags
I hope you all have a great Monday! It's back to work for me...and I'm moving into a new office today. :) As lame as I am...Bachelorette starts tonight, lol.