One of my co-worker's daughter is turning 30 this year. She asked me to make her a card...so I decided I would make a few and then she can pick which one she likes the best. I'm really happy to say that I finally used up all of my Eva paper. Another paper pack bites the dust, lol.
Though the dark panel looks black, it's really dark purple. I colored her dress really pale pink and then made polka dots with the blender pen. It looks much better in real life, as the pink doesn't look so washed out. I also used
Unscripted Sketch #49
.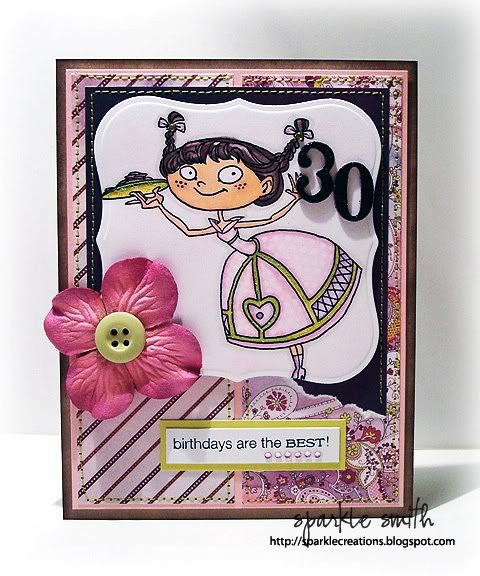 Paper: Basic Grey Eva
Stamps: Kraftin Kimmie, sentiment is Amuse
American Crafts Thickers, Copics, Nestabilities, Crystal Stickles, Rhinestones, Prima Flowers, and PTI Buttons
Sorry I never got a Christmas card up yesterday. I did finally finish it...but will post it another day. I got a lot done this weekend, so I will have lots to share this week. :)
I hope you all have a fabulous Monday! It's back to work for me...