My In-laws got invited to a Boy Scout Eagle Court of Honor ceremony for some of their cousin's children. Since the event is in Texas and they can't attend, my MIL asked me to make some cards. I am excited to finally have a true purpose for Scout Ian. If he didn't have his scarf, wouldn't he look like an UPS man? :) I also used
Club Anya and Friends Sketch #13
.
Thank you for all the birthday love yesterday! I really appreciate all the comments, cards, and gifts! And a special thanks to the Lala Land Crafts DT for doing a birthday blog hop for me! I will eventually post all my goodies, but I know some stuff is still trickling in. Even my dad called me yesterday to tell me that my gift was coming late.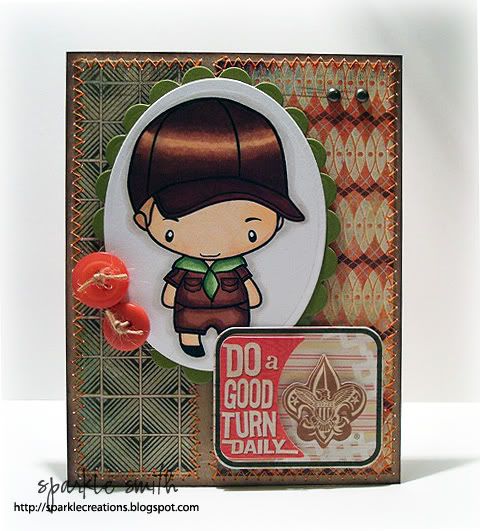 Paper: Basic Grey
Stamps: The Greeting Farm
K&Co Boy Scout Stickers, Copics, PTI Buttons, Nestabilities, and Twine
At work on Friday, I was surprised with balloons, flowers, and cake from Yvonne and Tricia. My department also got me a cheesecake and a $25 gift card to Michael's! Then on Saturday, it was a full day of fun and errands with some friends. I even got to go to Ben Franklin's and Impress (
scrap and stamp stores
). Then we ended our day with a yummy dinner at the Melting Pot.
I took off my birthday, but Brent didn't and this was his Saturday to work. So that meant we had to celebrate on Easter. Which was fine, but since it was a holiday, we just had an "
us
" day. Brent didn't believe me that Easter is a
major
holiday! I told him that all we'd be able to do is eat Chinese food and go to the movies. He still tried to go the mall and it was closed, lol.
We went downtown and ate Dim Sum at Jade Garden. It was really yummy and the place was packed. Then we went to go watch Alice in Wonderland. Please don't throw tomatoes at me, but I didn't like it. I'm a more classic type of gal I suppose. Brent now demands that we have a hedge in the shape of his head like the Queen of Hearts had, lol. I truly appreciate all the love and time you've taken to make me feel special on my birthday!
I'm finally all caught up and I was so scared that Sam was gonna get kicked off last week on Biggest Loser. But Crystal is doing great on Idol...so I'm excited for my shows tonight! Everyone have a great Tuesday...it's back to work for me.