This week's challenge is Movie Mania! Create a card based on one of your favorite movies. Don't forget to check out the
Raise the Bar blog
to see the rest of the DT's lovely cards!
First, New Moon isn't really my favorite movie, lol. Love Actually is...but I made this card for someone who just loves the whole Twilight Saga.
And before you all
freak
out on me about my flower...I will explain. I first bought Twilight and New Moon in paperbacks...but then had to buy Eclipse and Breaking Dawn in hardback. Well, you and the world know that I can't stand things that don't match, lol. So I now own all 4 in hardback...so yes, I sacrificed my New Moon paperback to make flowers.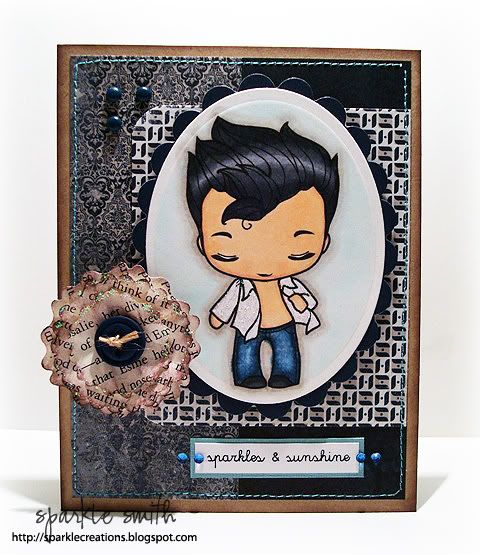 Paper: Basic Grey Boxer
Stamps: The Greeting Farm
CTMH Brads, Rhinestones, Crystal Stickles, Copics, Twine, CTMH Buttons, and Nestabilities
I am so excited! I saw on
Marianne's blog
that she is going to be here in Seattle for the opening of a new art supply store. It's called
Blick Art
and they sell all the Copic refills! This is glorious for me...so when my marker runs dry I don't have to pout and wait a week for the mail man! :)
Everyone have a fabulous weekend! I'm getting my hair done today! It's one of my favorite things! So relaxing! :)