This is my most used Bella...as I love the "cake" but it has always bothered me that she isn't wearing a shirt, lol. While crafting with the South Sound Stampers last weekend, we had a full discussion about Bella wearing her birthday suit, lol. Regardless, I still love my Bella. And guess what, new Bellas are out today! :)
I made the base for this card when I first got my kioshi paper weeks ago. I'm glad to finally use it and I airbrushed the background a light blue. This is also another card I made for my co-worker's daughter's birthday. She had asked me to put "30" on it, so all of them will have it. I hoard my Thickers so much, it's good to use them up. Repeat that to me again, lol.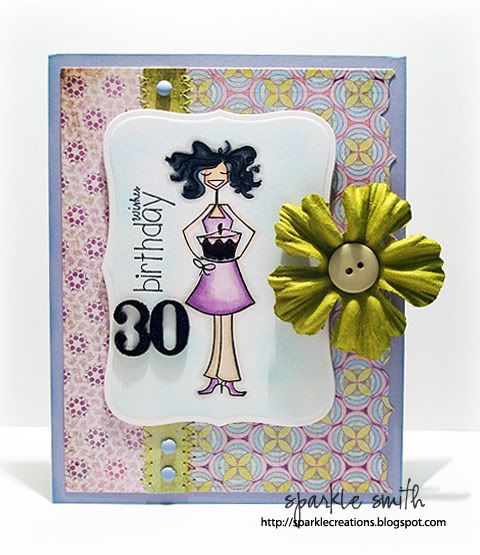 Paper: Basic Grey Kioshi
Stamps: Stamping Bella, sentiment is Amuse
Nestabilities, Copics, CTMH Brads, Crystal Stickles, Liquid Applique, Prima Flowers, and PTI Buttons
Everyone have a fabulous Thursday! It'll be a sweet night of crafting goodies and looking forward to Grey's and Private Practice!