This week's challenge is altered embellishments. Take a store bought embellishment, and change it in some way! For example, you can cut a petal off a flower to make a butterfly, sew a running stitch through some ribbon and gather to make a ruffle, take any embellishment and color it with paints/inks/markers, etc.
So...I guess I didn't really alter any of my embellishments, lol, but I did combine them and dressed up my flowers a bit. I am still working on getting my airbrushing even, so I had to laugh at myself, since I got some of her hair a little pink.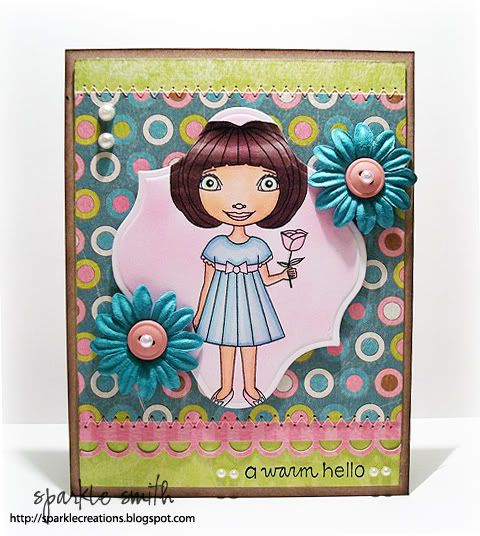 Paper: My Minds Eye
Stamps: La-la Land Crafts, sentiment is Amuse
Prima Flowers, CTMH Buttons, Pearls, Copics, and EK Success Border Punch
Don't forget to check out the
La-la Land Crafts blog
to see the rest of the DT's lovely creations. Also, this week's special is
Birthday Cake Maya
. She will be 20% off in the store this week. I hope you all have a great hump day! I will be back on Friday for Farm Fresh Friday!