Today's challenge is a sketch challenge. Please check out
the Greeting Farm blog
to see the full sketch and the rest of the DT's lovely creations. I must say that I think Laurie is one of my favorite critters! I think it's from watching Pepe Le Pew as a kid, lol.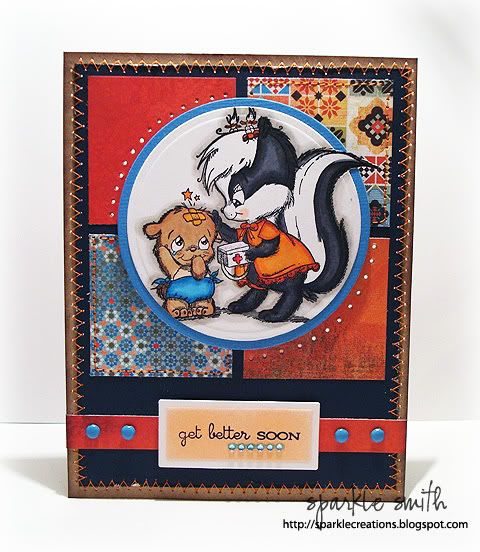 Paper: Basic Grey
Stamps: The Greeting Farm, sentiment is Amuse
CTMH Brads, Copics, Nestabilites, and Rhinestones
I switched over to Firefox awhile back because you can't download the TGF digi stamps in Internet Explorer. I upgraded my Firefox and it's been wonky. I uninstalled it and then went back to the older version. It's still not totally fixed, but better. On the home desktop, Brent uses IE and can't get into his gmail account. We still have IE7, so do you think we should upgrade to 8?
Okay, now onto the more personal stuff. Though I'm a day late, it's time to check in with my goals. Can you believe that the first quarter is already over? I am so happy to
finally
cross something off my list. :) I also hope to do a little bit better this next quarter.
Pay off my car by the end of the year - Still chugging along...
Technical writing class (for work) - I still haven't signed up for one. With us being short staffed, opening new stores, launching new products, and our family reunion in Yellowstone this summer, I'm not sure when I'll be able to take this.
Photoshop and Illustrator Tutorials (for work) - I still haven't progressed any farther then where I was at in February. We launch our first store in Vancouver, BC on June 1st, so my work schedule will be very hectic until then.
Get Copic certified
Make tags with my Christmas cards - I still only have the 2 tags that I made in January. With my new DT taking over the CCC blog, I will have more time to work on this.
My secret project - is progressing really well! I'm really happy with everything I've been able to do in such a short amount of time. You can see where I've put most of extra effort into.
Use up more of what I already have -

doing good...I've used up 2 of my old Basic Grey paper packs.

Spend 1/2 on crafting than last year - I went over budget by $60 in March, because I made a special purchase at A muse. I rarely go there - once every 6 months - so I made it worth my discount. :)
How are you all doing with your goals? I'm so happy it's Friday and it's almost the weekend! Since my birthday is Monday, I get a 3 day weekend! Wahoo!