Hello all! I hope you had a lovely weekend and Easter. Sorry that I never got my Christmas card up yesterday, but I still plan to get it done before the week is over.
I was actually suppose to finish and post this card last Monday. I was frantically coloring her while Marianne was teaching our certification class. I have one more project on Thursday and that will be the last of my beloved Marrakech paper. I also used
Sweet Sunday Sketch #63
for this.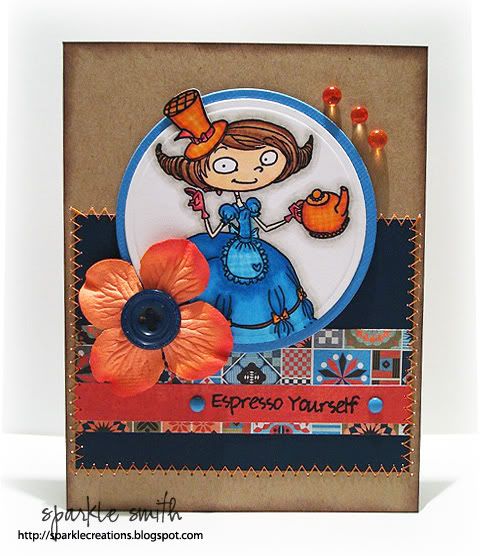 Paper: Basic Grey
Stamps: Kraftin Kimmie
Prima Flowers, PTI Buttons, Copics, Nestabilities, CTMH Brads and Dew Drops
My friend Yvonne from work let me borrow this book from her. It's about the fundamentalist Mormons who have polygamy families. The story starts with her childhood, her mom being wife #2 out of 4 to her father. When she grows up, she becomes wife #2 out of 8 to her husband.
In Hmong culture, polygamy isn't the norm, but it's acceptable. Anna (
my step-mom
) comes from a polygamy family and is the oldest child from wife #2. But the major difference with this book and Hmong culture is that the fundamentalist Mormons do it for religion. They think they'll become gods if they have many wives and children.
I honestly don't know anything about Mormons or the fundamentalist Mormons, so I went into this book blindly.The book itself is very interesting and would recommend it. Since the husband couldn't really provide a lot of money for his family, they lived in true poverty. Most of the time they lived without running water and electricity. I felt really sad for this lady and I admire how strong she was to endure it all.
I hope you all have a fabulous Monday! It's my birthday, so I'll be at home in my pajamas crafting, lol.