I have owned this cute little Ian ever since he came out...it's been so long I honestly don't even remember. Guy cards aren't really my thing, so that's why my Ians don't see that much love.
Peggy made this
really cute card
, oh I mean "cool" card, with him and I was determined to finally ink up this cute little guy! I also used
Club Anya and Friends Sketch #9
.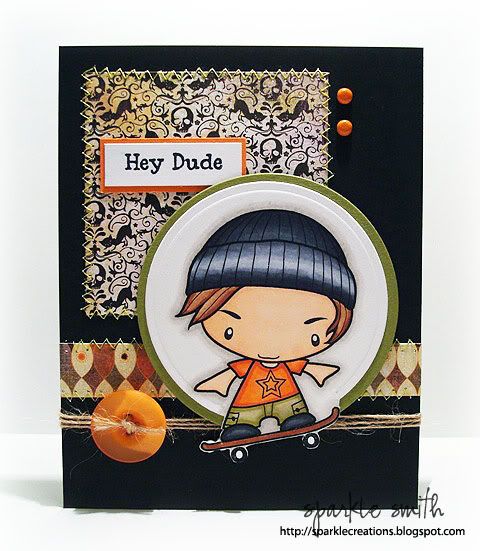 Paper: Basic Grey Eerie
Stamps: The Greeting Farm
Nestabilities, Twine, PTI Buttons, American Crafts Brads, and Copics
I feel like I haven't read for fun in years. The other night when I desperately wanted to craft, I had a headache and just couldn't concentrate. So I decided to read this book that I received in the mail weeks ago.
It's a story about how 2 girls became best friends. One had a loving family, but was fat. And the other came from a divorced family, yet turned out pretty and popular. They stopped being friends their senior year and now it's the night of their high school reunion. The pretty girl hits a guy from their class with her car and goes to her long lost best friend for help.
This book isn't as good as
Goodnight Nobody
, the only other Jennifer Weiner book I have read. I think I liked that book better because it has more suspense and mystery to it than this one. But if you want an easy, quick read to lighten your day, this is a good read.
Have a great Tuesday! Can't wait to see Idol! Brent loves Ellen, but I miss Paula.