I made this card weeks ago when I hung out with the
South Sound Stampers
. She's my favorite
Kraftin Kimmie
image! I couldn't find a sentiment that I really loved, so I finally just made myself finish the card, lol. I got tired of her sitting on my desk.
This must of been one of my last cards to make that day, because I noticed that I outlined her once, but didn't finish. I just had to laugh at myself and then fixed her up before I took the picture. I just got the new Tea Party kit that
Kraftin Kimmie
released, so I'm excited to play with them soon.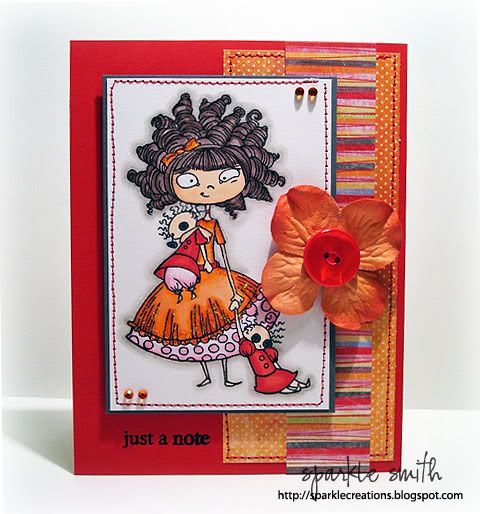 Paper: Basic Grey Sugar Rush
Stamps: Kraftin Kimmie, sentiment is PTI
Rhinestones, Prima Flowers, PTI Buttons, Copics, and Crystal Stickles
I've been wanting some Alice themed stamps, so I decided to get the Tea Party kit. There's so many new great sets out there, but I couldn't go wild on the spending. I'm going to
A muse
this weekend to take a class and my friend
Rachel
is a bad influence on me. :) I will return home with more sentiments, bwah..ha, ha.
We booked this class in January, so I've had time to build my sentiment fund. I hope you all know that I'm responsible and I budget. You get a 10% discount when you take a class so I'd be foolish to come home empty handed, lol. I'm also excited to spend time with some friends and a dinner out.
Everyone have a fabulous Thursday! I'm excited for Grey's and Private Practice!