Isn't this little trouble maker the cutest? She reminds me of my friend Kendall's daughter Aubrianna. I might just have to send this card to them. I used the colorless blender and a piece of denim on her hat to make it textured. I like how it turned out. This is also for
Club Anya and Friends Sketch #11
.
Don't forget...today is free pastry day at Starbucks! And it's also free cone day at Ben and Jerry's. It's gonna be a fun and yummy day for me, lol. I don't usually get Starbucks during the week, so this will be a treat for me! And as lame as I am...I love Cherry Garcia. I get it every year at free cone day. :)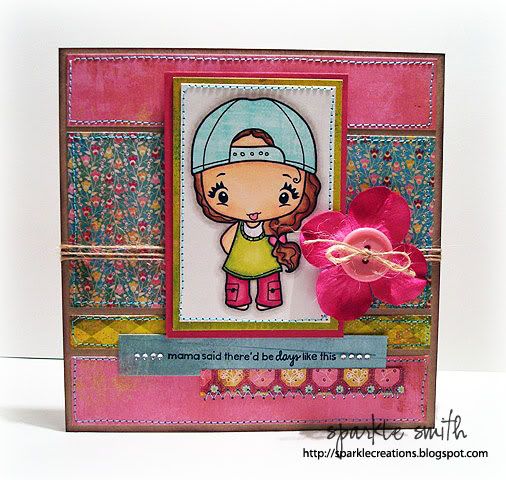 Paper: Basic Grey Lemonade
Stamps: The Greeting Farm, sentiment is Amuse
Copics, Twine, Prima Flowers, PTI Buttons, and Rhinestones
Okay, so I thought I would share some randomness. In the past, I know I've talked about how mean and crazy people are on 2 Peas. I don't get into the drama, but I love to lurk on there. I do get a lot of useful info too, lol. But yesterday I found out that there are ladies who take the "controversial, juicy, crazy" posts and re-post them onto a blog so that people can gossip about them. I find it just ridiculous and hilarious all at the same time. Don't people have better things to do?
I haven't been to the gym since we went to Vancouver, but I still have been going to my water aerobics class. I finally went running yesterday and I while I was there I saw the new Jack in the Box commercial. I tried to find it on You Tube, but couldn't. It's the one where they're making a new breakfast sandwich and the cook makes a pancake like Jack's face. I was laughing so hard, I think the guys running on either side of me thought I was crazy, lol.
Anyhoo- I hope you all have a fabulous Tuesday! Can't wait for Idol and Biggest Loser. I picked Sam as my winner for BL...so I hope the Black team can hold in there just a bit longer.