I was going through my Bellas and just a few weeks ago I thought to myself that I would really like to play with Blingabella. I've been trying to get more use out of my older stamps. Well, I haven't had any friends get engaged since my bff Catherine got engaged 2 years ago.
Then I found out that
Amy
got engaged while she was on a fabulous cruise vacation! I know Amy's not a purple fan...but green is her favorite color. So I hope the green makes up for the purple on this one. :) I haven't sent this out yet...but Amy lives in the same city as me, so she'll get it in a day, lol.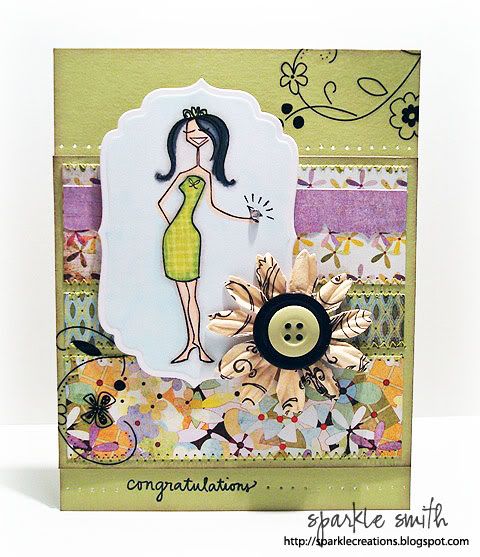 Paper: Basic Grey Kioshi
Stamps: Stamping Bella, sentiment is Amuse
SU Rub-ons, Copics, Rhinestones, Prima Flowers, PTI Buttons and Nestabilities
Guess what I noticed yesterday?!? I have 300 followers now! :) I will be doing some blog candy soon! I've never made people be followers to participate in anything I do, so I truly appreciate all of my fans and the time you take to peek at my blog!
Everyone have a fabulous Thursday! Whats up with re-runs? But Flash Forward does come back on tonight.