*This is my 2nd post for today. Please scroll down to see my La-La's Weekly Wednesday Challenge.*
Sorry I'm running late this morning! It's been a crazy week and it's only Wednesday, lol. Hello everyone! We have another fun preview over at
The Greeting Farm's blog
for you today using the new "Get Well" set designed by Marina Neira.
Even more heartwarming, we are calling all of
you
to action by heading up a
charity card drive
for sick children and their families this week. Tomorrow you will hear more about that from
Jessica
and be given instructions on how you can enter this card drive and put a smile on the faces of not only a sick child, but hopefully their parents, siblings, and all who are affected by all of the heartbreaking illnesses out there. We have been wanting to do this for some time and I'm really happy about it; can't wait to see how many cards we can collect for this wonderful cause!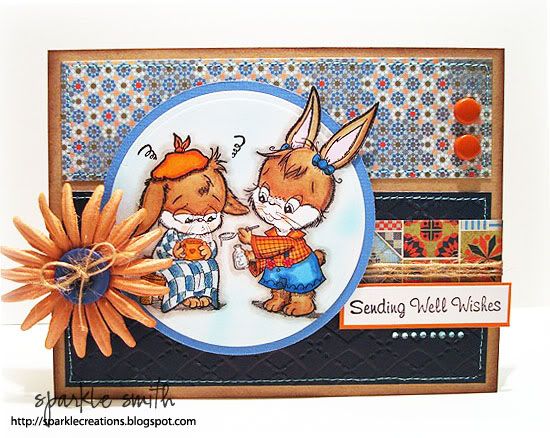 Paper: Basic Grey
Stamps: The Greeting Farm
Prima Flowers, PTI Buttons, Twine, Nestabilities, CTMH Bigger Brads, and Rhinestones
We are also really excited about release day tomorrow and the announcement of this contest. Because it will be the focus of the TGF Release this month...we have put together a
HUGE
prize for this contest! In addition, there will be prizes given away tomorrow on our Release Day so be sure to stop by the
TGF Blog
for the Official Contest.
The Farmers and Critter Crew alike, has some
super cute
samples today on the
TGF Blog
and on our own personal blogs too! In fact,
one lucky winner
will be chosen today from one of our blogs to win this "Get Well" set by Marina! We don't even know who's hiding it...so be sure to make your rounds if you have the time and
good luck
to all!
The Farmers
Melyssa Connolly
Jessica Diedrich
Kadie Ensley
Mary Giles
Cindy Haffner
Kim Nath
Randi Wall
Cheryl Walker
Critter Crew
Heather Schlatter
Jami Bova
Mercy Kerin
Sandra Maclean
Sparkle Smith - Me
See you back here and on the
TGF Blog
tomorrow! I also just wanted to squeeze in here that I used Jen dul Muro's
Sketch For You to Try
from this last weekend.
Brent and I are going to see John Mayer tonight! I know the show won't be as good as it was at Red Rocks, but I'm sure it'll still be great. Have a great hump day!