So...do you like my new blog banner? I was so excited that
Amy
made a fairy named
Sparkle Thistleweed
. I think she makes a great icon for me as she's fun and sassy. :) Okay, on to my card...this is only the second time I've ever used this Bella. But isn't she just so elegant? I'm not sure if Ali's dress even looks remotely like this, but I had to make it matchy, matchy to the card, lol.
I realized that I need to invest in more wedding images and sentiments. But I still think that this is somewhat appropriate since I'm sure the big day will be filled with sparkles and sunshine! It's hard to see, but I did add some glitter to her dress.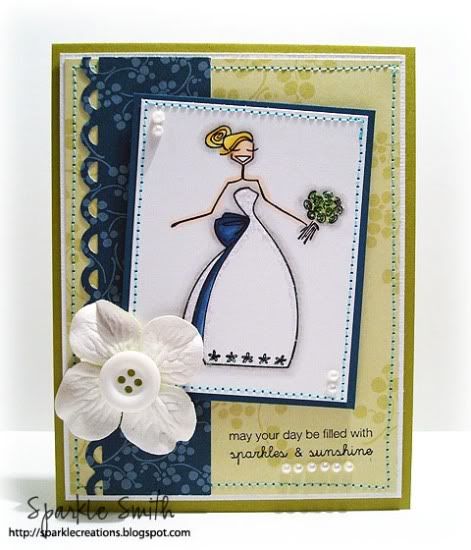 Paper: SU
Stamps: Stamping Bella, sentiment is Amuse
Pearls, Friskars Border Punch, Prima Flowers, PTI Buttons, Copics, and Crystal Stickles
This is the end of my wedding Bella cards. Which ever cards Catherine doesn't pick, I'll be adding them to my Etsy. Remember, tomorrow is Farm Fresh Friday and I also have another Cheeky Sneak Peek.
Everyone have a great Thursday! Yeah for Grey's and Private Practice tonight!