This is my little sister (
my step mom's baby
) Emily on Christmas day with her Cinderella doll that she asked Santa for. At Hmong New Years, she got a dubbed version of Cinderella in Hmong and she informed me during the holidays that Cinderella is indeed Hmong. What a silly girl...lol. But she does understand that Tinkerbell only speaks English when she begged me to get her Tinkerbell and the Lost Treasure.
She turned 4 last Thursday and my parent's had a birthday party for her. I originally planned to go home...but since Brent was scheduled to work that Saturday, I stayed home and celebrated
Jenn's
and
Rachel's
belated birthdays. Doesn't Emily really look like Stella? So, here's my Stella card I made for her and she's wearing a lovely blue dress to match Cinderella.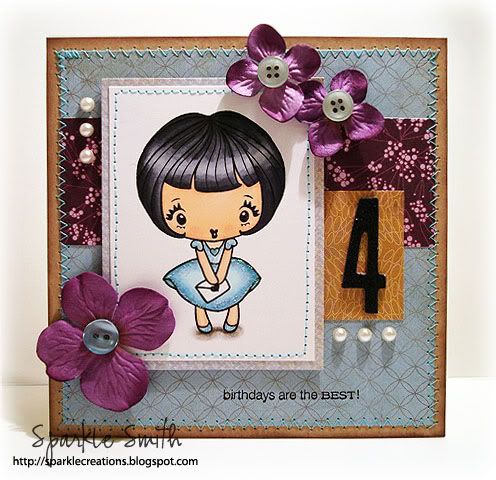 Paper: Basic Grey Wisteria
Stamps: The Greeting Farm, sentiment is Amuse
Pearls, Prima Flowers, PTI Buttons, Crystal Stickles, and Thickers
Remember how I picked a word for 2010? Well, I saw
Ali Edward's
update post about her word and thought I would share too.
Ali
picked 3 topics -- learn, create, and write. In
her post
, she gave suggestions of things you could do with each of these.
LEARN : Locate a book (online, library, bookstore) that addresses your word and make it a priority to read/learn something new about your word this month. I have been reading and I do think this will help me to strive and accomplish my goals. I can't really tell you what book I'm reading, or you'll know what my secret project is.
CREATE : Grab your camera and photograph the letters of your word. If you can't get out or you want a little instant gratification you can always check out Spell With Flickr. I went the easy route...since I work during the day, I don't really have time except on the weekends to go find letters. But I think I might make a mini sign and use my American Craft Thicker stickers.
WRITE : Consider writing out where you hope you will be in one year and the role your word will play for you in 2010. I have a goal calendar that I made in Excel and I have everything spaced out when I want to accomplish certain parts of each goal. It's so much easier for me to break all the big goals into a bunch of smaller ones.
Everyone have a lovely Tuesday! Yeah for Biggest Loser and Idol!