If you're looking for the
TGF My Cheeky Valentine blog hop
, just click on the link or scroll down to the next post. The blog hop closes at 9am CST.
Okay, this is gonna be a jam packed entry today. Since some have asked, Catherine decided to take all 3 of my Bella wedding cards, because she couldn't choose which one she liked the most, lol. Ali might be surprised when she receives 3 wedding cards! :) Catherine loved them all, and guess what? I was right about the blue dresses and green bouquets! Catherine was shocked when she saw the cards, since she never told me. My artistic soul must of been talking to me.
With wedding cards and Cheeky previews, I've gotten behind on my
Club Anya and Friends
Sketch Challenges. So here is my card for last week's
sketch #5
. Though it's posted late...I did make this way before Valentine's day.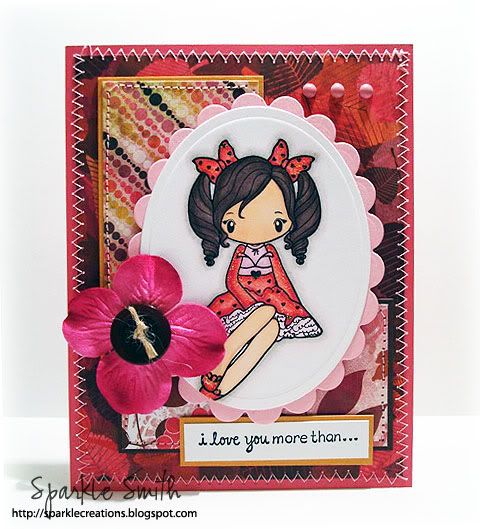 Paper: Basic Grey Indian Summer
Stamps: The Greeting Farm, sentiment is A muse
Prima Flowers, PTI Button, Copics, Twine, CTMH Brads, Nestabilities, and Crystal Stickles
Kim
wanted to see whole pictures of my wedding dress, so I thought I would share. I got married on July 5th, 2008 down in Portland, but I know that many of my newer blog viewers haven't seen my wedding pictures.
I wanted to represent all parts of my different cultures, so I wore a traditional white dress, my traditional Hmong clothes, and a Chinese dress. Since my mom was born and raised in Hawaii, I used all tropical flowers for my wedding. We had used tropical flowers for her funeral as well, so that was really important to me. I also appreciated all the work and help Anna (
my step mom
) did for my wedding too.
Though I uploaded the pictures small, if you click on them, you can view them much larger. These are the originals from the photographer, so they're pretty large file sizes. And honestly, I don't really recommend 3 dress changes in one night, lol.
After Anna got married to my Dad, he took her up to Vancouver and she got me these cute little figurines. I really wanted them as our cake toppers, but Brent said "no" because he wasn't a Chinese boy, lol. I even offered to paint the boy's hair yellow. :) Now I just use them as part of my Chinese New Years decor!
Well, most of you in the US probably have today off, but I have to work today. So I hope you all have a great holiday and can't wait for Bachelor tonight!