I'm still slicing and dicing my Kiwi Kiss paper, lol. I absolutely adore this image...and when I got married, I made all my bridesmaid gift bags with this stamp. Also, for a little bit of trivia, this was the first Bella stamp ever made.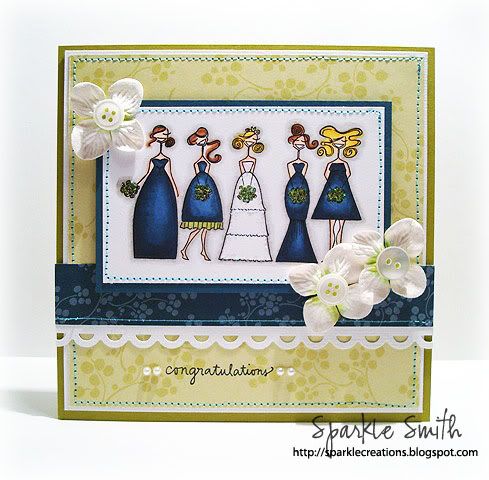 Paper: SU
Stamps: Stamping Bella, sentiment is Amuse
Prima Flowers, PTI Buttons, Pearls, Copics, Crystal Stickles, and Friskars Border Punch
Though green is my favorite color, Brent wouldn't let me have a green wedding. So as I made these cards, I did get a little envious. (No offense, I'd never pick this color combo though.) I don't regret picking red...we got married on 4th of July weekend, so red, white, and khaki was just right for that. Plus, Catherine and I rock red pretty well, lol. I'm wearing my Chinese dress in this pic.
Everyone have a great Tuesday! I'm excited for the Biggest Loser and American Idol! I'm excited that BL went to Colorado Springs and they'll be showing the Olympic Training Center! 14 days until I leave for Vancouver! :)