The challenge at
Raise the Bar
this week is to use designer paper that you've had in your stash for a while. You know, like the ones Stampin' Up doesn't even remember carrying.
Well, this is the oldest SU paper I have, lol...and I must say it's a bittersweet moment. I've been holding on to Kiwi Kiss and Baja Breeze...and I'm still slowly saying goodbye. The hoarder in me is screaming "don't you dare cut that paper", yet the organized one in me is saying "yeah - room for new paper!" :)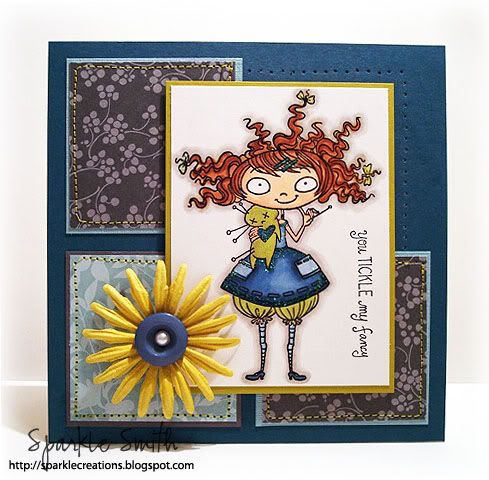 Paper: SU
Stamps: Kraftin Kimmie, sentiment is Amuse
Prima Flower, PTI Button, Pearls, Copics, and Crystal Stickles
Though I'm a happy, laughing, and bubbly person (
like Tinley on Bachelor
), I do have an edge to me. I think it would be hilarious to send this to your boyfriend for Valentine's day. She looks so sweet and innocent with that big smile on her face. But she'll get you, so you better watch out! I do promise you all I'm not psycho...bwaha, ha, ha.
Everyone have a fabulous Saturday! I will be up in Lynnwood celebrating
Jenn's
and
Rachel's
belated birthdays and then we'll all be crafting!