I hope you all had a wonderful New Year celebration. As you read this, I'll be hanging out with my best friends Catherine and Shannon. I'm very excited to finally meet Alex, Shannon's baby who was born in late October.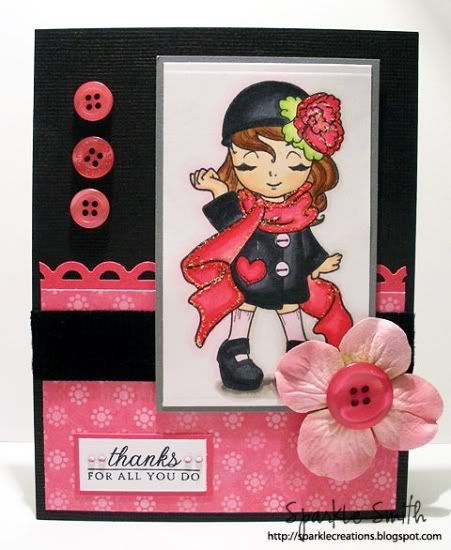 Paper: CTMH, SU Razzleberry Lemonade
Stamps: The Greeting Farm, sentiment is PTI
Prima Flowers, PTI Buttons, Copics, Crystal Stickles, EK Success Border Punch and Rhinestones
With a new year, it's time for me to make new goals. I never made my scrapbooking goal last year...so I think I will stay away from that this year, lol.
When I bought my car last year, my goal was originally to pay it off by my next birthday. Brent and I decided later to pay off our appliances first, so I hope to pay off my car by the end of the year.
I want to take a technical writing class and learn how to use Dream Weaver. This applies to my day job and I'm excited that we're upgrading to Creative Suite 4.
I really want to get Copic certified, so I hope to do that. I was hoping CHA would be in the cards for me, but with the Olympics and Brent's family reunion at Yellowstone, that will have to wait for 2011.
While wrapping my gifts this year, I realized that I need to make tags. So I intend to make tags with my cards. I don't need a hundred tags, so I won't be making one every weekend. But it'll be good to have all of these done by next year too.
And my biggest goal of all, is a huge secret. I will tell you all in time and I know you'll be just as excited about it as I am. I hope to complete this one by the end of the year or early 2011.
Many have asked what's in store for my future and because I'll be working on this secret project behind the scenes, I don't plan to apply for any "company" DT positions this year. The only one I secretly had hoped for was that Marie and Jessica would...maybe still will...ask me to become a Farmer. But all the Gardeners are so talented, so I'm trying not to be disappointed.
All the Farmers are so worthy, so please don't take my self pity as me saying that they don't deserve it. I just wish I was there with them. I really appreciate all the kind posts that were left on my post about it the other day.
So, what are your goals for this year?