Do you love my Bella Thursdays as much as I do? I just adore this Bella...oh wait, I adore them all, lol. I also used
Taylored Expressions Sketch #96
for this card.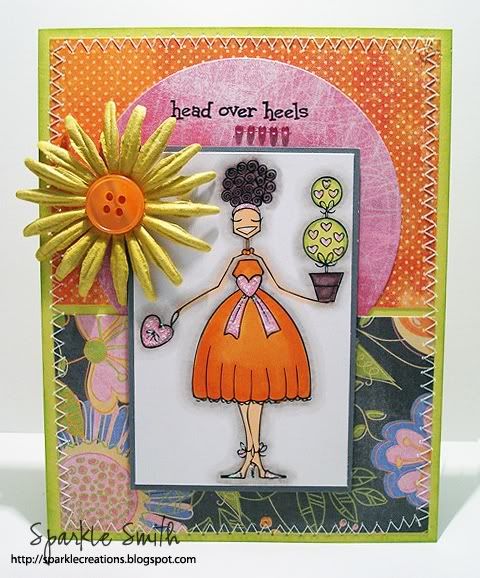 Paper: Basic Grey Sugar Rush
Stamps: Stamping Bella
Prima Flowers, Copics, PTI Buttons, Crystal Stickles, and Rhinestones
In December 2007, Lauren Meader wrote about this super cheap sewing machine she bought at Rite-Aid on clearance. Here is
Lauren's post
, if you want to see/read about it. Of course, I ran right out and bought one the same day! I think it's the best $5 I've ever spent. Though it's simple and only does a basic stitch, I've never had problems with it!
Though within time, I started to envy those who could do zigzag stitches on their cards, lol. But whenever I saw a Janome mini, I never wanted to shell out the $50 for another sewing machine when mine was still in good shape. Well, 2 years later...my in-laws got me one for Christmas and I'm so ecstatic! I'm sorry to be so nerdy, but I'm so excited for my zigzag stitches!
Everyone have a fabulous Thursday! Just a little bit more for Grey's to come back!