I was so excited when this new Bella came out last month! I've had her since before I left to go Portland, but so far I'm doing pretty good. I got her inked in less than a month of sitting on my desk. :)
I'm still trying to use up my endless stack of paper. Though it's really bright, Lime Rickey is another one of my BG favs. This card is for my friend
Rachel
, who's birthday was last Wednesday.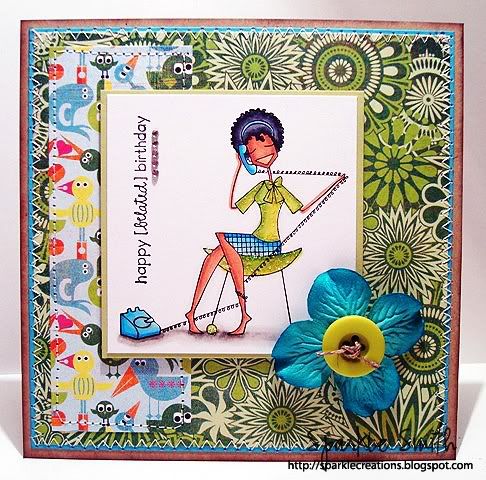 Paper: Basic Grey
Stamps: Stamping Bella, sentiment is Amuse
Copics, Prima Flowers, Rhinestones, PTI Buttons, Twine, and Crystal Stickles
I hope you all have a great Monday! It's back to work for me...then Bachelor!
On a side note, I'm so excited because one of my Denver trainee's got promoted to Branch Manager. She's my third one (to start as a Teller and work their way up) and she'll be here in Seattle all week. Sorry, just gotta toot my own horn on this one. These are the awesome peeps that make me miss teaching. The difficult ones make me appreciate my office job now, lol.