Every week, I'm making 2 Christmas cards, so by the first week of December 2009, I will have 104 cards already made. If you play along with me, send me your links and I'll put them in my post.
Yeah- we've hit Week 5 already! I am going to issue additional challenge for next week, if you choose to accept. For Week 6, make a Christmas card not using any green or red.
I'm trying to use up stamps that I've bought and haven't used. I am still waiting for the chance to use my Menorah Bella. She didn't make it here in time for Hanukkah, so I didn't get to make Josh (my co-worker) a card this year. But, I will be totally ready for next year, lol.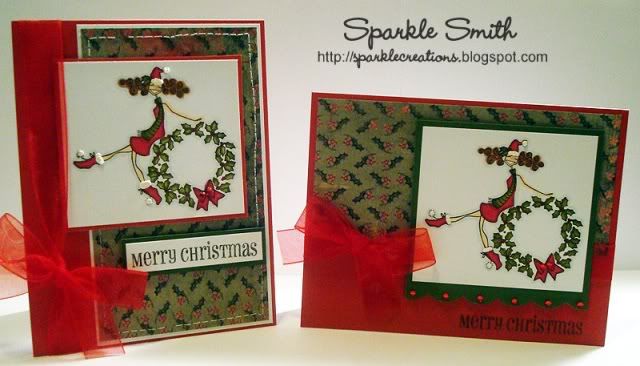 Paper: Basic Grey Wassail
Stamps: Wreathabella, CTMH
Copic Markers, Liquid Applique, Rhinestones, and Ribbon
Hope you all have a great Sunday!
Alanna's Blinging Cards
Steph's Pretty Peace Cards
Anna's Cute Manger Cards
Jill's Adorable Cards