Every week, I'm making 2 Christmas cards, so by the first week of December 2009, I will have 104 cards already made. If you play along with me, send me your links and I'll put them in my post. If you upload to SCS, please use the keyword SCCC6.
Last week I said to make a card with no green and no red. Since I've been in valentine mode, I used my new pink Basic Grey paper to make these cards.
For week 7, I challenge you to use Liquid Applique on your cards!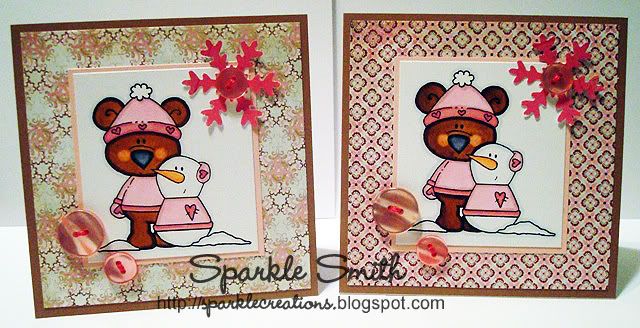 Paper: Basic Grey Bittersweet
Stamps: CC Designs
Snowflake Punch, CTMH Buttons, and Copic Markers
I normally make 2 different designs, but I've been too busy this week...so they're the same but different paper. :) I hope you all have a great Sunday!
Alanna's Cards
Steph's Cards
Anna's Cards
Marjorie's Cards