When I was an active CTMH Consultant, I use to do Christmas Card Workshops. I'd make 60 cards from 1 L2 paper pack. Usually I'd do a few sets for myself and be good. Since I didn't do a workshop this year...I struggled to make just 70 cards. So I have decided to start a Christmas Card Challenge of my own.
I am going to make 2 Christmas cards every week for the whole year. By this time next year, I should have 104 Christmas cards (52 weeks in a year). I will be posting these every Sunday. :) Do you want to play with me?!? If you do, make sure to link me your cards and I'll post them here!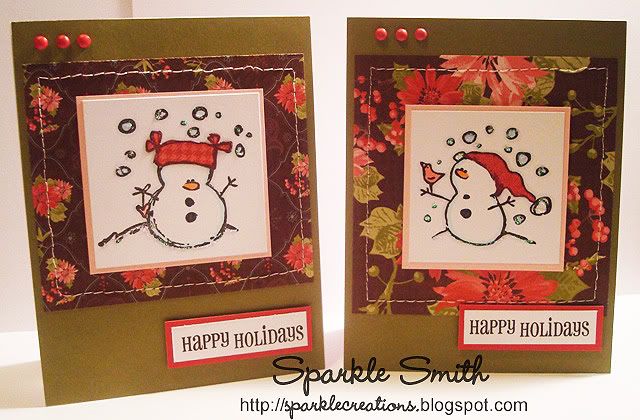 Paper: SU Holiday Treasures
Stamps: CTMH Snow Friends, Say It With Style
Crystal Stickles, Copics, and CTMH Brads
Last year, whoever didn't get a Save the Date card, got a Christmas card with this stamp set. These little snowmen are my favorite CTMH set ever! I resisted using them again this year...but I doubt my family would of hardly notice, even if I had.
I mailed out all of my Christmas cards yesterday! And I finished my Christmas shopping. Now I just need to wrap and finish up my crafty gifts. I forgot how expense it is to buy wrapping paper, boxes, and ribbons. The last few years Brent and I flew home from Denver and you can't fly with wrapped things. So I'd wait to wrap them in Portland and use my parent's stuff...but not this year, lol. It's all right, I love the Elmo paper I got Emily!
Hope you're all enjoying your Sunday!