I told Jenn and Nona that I would find this and post this. This is the only shirt I ever made with CTMH stamps. If you've been around with CTMH for a long time, you might remember this set. It's been retired for many years already. And this shirt was made before I even became a CTMH consultant.
I stamped it with Fabrico ink (
which I know the brand name has changed
) and colored it in with puffy paint. I don't have this t-shirt anymore and honestly, I don't think I ever wore it. I did make a few for my mom's co-worker's daughters though.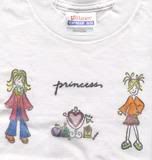 We had a good time last night...I hope we didn't scare Rachel though, lol. I hope you're all enjoying your Friday.